WORLD-CLASS DATA PROTECTION
Ensure business continuity with a complete solution that backs up and replicates any system in any environment and in any location.
Acronis sets the standard for hybrid cloud IT data protection through its backup, active protection from ransomware, disaster recovery, and secure file sync and share solutions. Powered by the Acronis AnyData Engine and set apart by its image technology, Acronis delivers easy, fast, complete and affordable data protection of all files, applications and operating systems across any environment—virtual, physical, cloud, and mobile.
Acronis Cyber Protect integrates backup and new generation, AI-based antimalware and protection management into one solution. Integration and automation provide unmatched protection – increasing productivity while decreasing TCO. With one, integrated solution, you can eliminate gaps in IT infrastructure protection, decrease number of incidents, and minimize time required for incident response.
Acronis Server Products (Recurring Annual) Deals
Acronis sets the standard for cyber protection and hybrid cloud storage through its backup, anti-ransomware, and other innovative solutions:
Warm Recovery Server - Up To 32GB RAM

Warm Recovery Server - Large (Per GB RAM)

Cold Recovery Server - Up To 32GB RAM

Backup Server

Backup Workstation
Acronis Backup 12.5 for Win Server
Backup Your Windows Server to Hybrid Cloud Storage and Recover Your Entire Server in Seconds
Integrated cybersecurity and data protection
More than 90% of companies have had to adopt new tech to support
remote working
. Security issues in those remote environments are a top concern for organizations – and with good reason. 31% of businesses are being attacked by cybercriminals every day. And data loss now is more damaging than ever before.
A new single solution - Acronis Cyber Protect 15
To account for
remote working
challenges, businesses are reaching out to a wide array of vendors and resellers to build a patchwork defense for their environments – a defense that's often complex, expensive, and ineffective. But what if, instead of cobbling together solutions from different sources you could get a single easy, efficient, and secure solution from Acronis that better addressed these problems and more?
Avoid downtime, data loss and security breaches at low cost
By integrating data protection, cybersecurity, and endpoint management capabilities in a single, locally-deployed solution, Acronis Cyber Protect
*
enables you to:
Deploy limited IT resources more effectively, saving you time and money

Eliminate the complexity of managing the protection of systems and endpoints

Improve your security posture against modern threats
*
Acronis Cyber Protect security is VB100 Certified and has a 100% detection rate with zero false positives by both Virus Bulletin and the independent security lab AV-Test.
Disaster Recovery Service
Solutions that combine disaster recovery (DR) with data protection and backup for small and medium-sized businesses
Ensure business continuity with a complete solution that backs up and replicates any system in any environment and in any location. Acronis Disaster Recovery Service can recover and restart the system in local appliance or Acronis Cloud with guaranteed SLA in the event of an outage.
Ensure outstanding business continuity with aggressive RTO and guaranteed SLAs

Get both backup and disaster recovery in single package for complete data protection

Reduce downtime from days to minutes and seconds

Reduce infrastructure costs by eliminating need of duplicate DR infrastructure

Reduce risks of DR failures with scheduled and on-demand DR testing

Achieve complete protection with broad platform support
Data integrity assurance

Application resilience

Multi-cloud orchestration management

Automated change management
Companies today are switching to backup as a service (BaaS) solutions instead of setting up and maintaining their own backup and recovery infrastructure. They find it's just smart business. Here's why:
Superior data protection expertise
Outsource your corporate data protection to a trusted managed service provider (MSP) that has unique access to independent software vendor (ISV) trainings. They invest significant time to understand backup implementation procedures inside and out so you don't have to.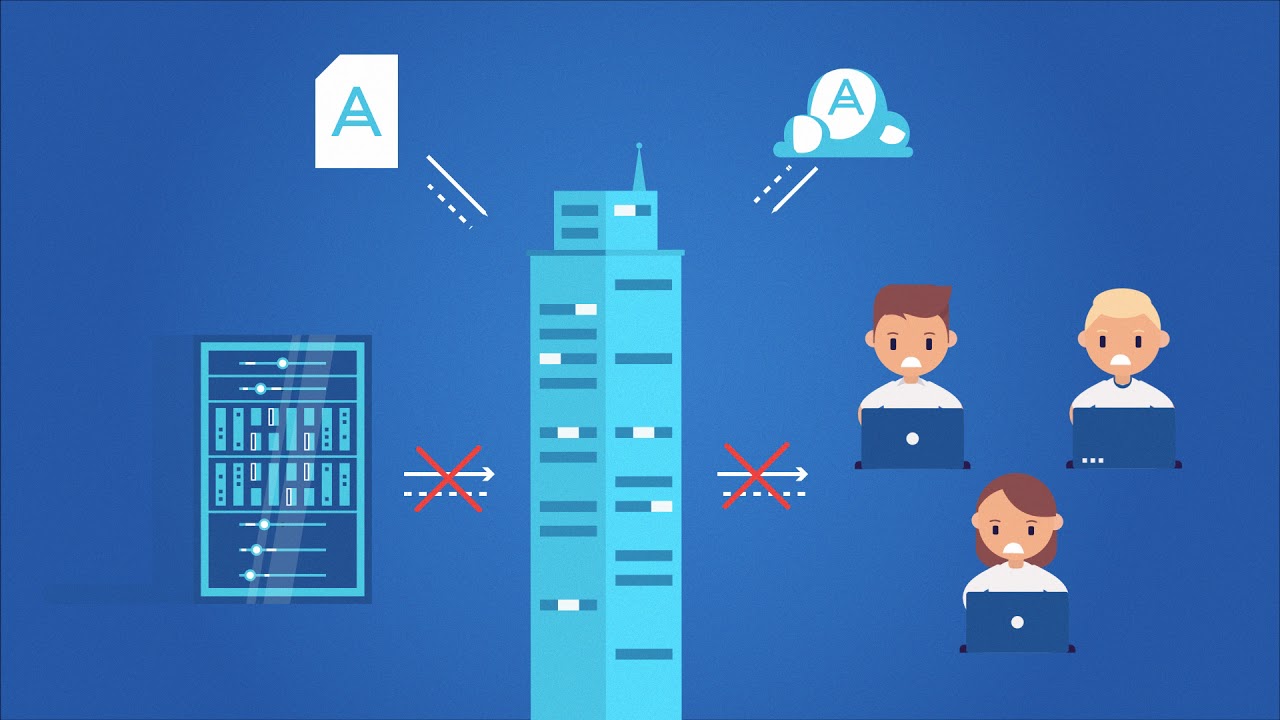 Easier management and scalability
Offload maintenance and management to your cloud service provider instead of worrying about managing storage at an off-site location.
Safeguard your data by keeping a copy off-site. By backing up corporate data remotely, you avoid simultaneously destroying both original data and backups should a physical disaster (like theft, fire or flood) or digital danger (like a network-wide malware infection) occur.
#1 Backup with Ransomware Protection.

Data Protection Solutions for Home & Business

Physical + Virtual + Cloud

500K+ Businesses

21 Platforms, 1 Solution
Trackable Download of Free Acronis True Image
Acronis Backup and Disaster Recovery Solutions
Hybrid cloud-based and on-premise disaster recovery and backup solutions for cloud, virtual, and physical environments. Reduce downtime, data loss, and IT management complexity.
Prevent ransomware attacks with Acronis Active Protection™, which detects and proactively blocks unauthorized encryption of files and backups.
Acronis System Deployment Solutions
Provision hundreds of workstations and servers as fast as you can provision one. Create a master image and deploy it to multiple machines in one easy step.
Acronis File Sync and Share (BYOD) Solutions
Secure content access, sync and share solutions increase IT control, improve content security, ensure regulatory compliance and boost end-user productivity.
The Best CrashPlan Backup Alternative
50% Off Acronis Backup for Crashplan users
With Acronis Active Protection from ransomware, blockchain-based authentication of your backups with Acronis Notary, and admin roles and delegations, Acronis Backup 12.5 is the most reliable backup solution available today.
Business Continuity Plan

Secure Data Backup

Ransomware Protection

15 Sec Instant Restore

Stops Ransomware

Simplified Licensing

100+ Awards

21 Platforms, 1 Solution

Physical+Virtual+Cloud

Unlimited Mobile Backup

3 Clicks to Back Up
With an easy-to-use, touch-friendly, web-based management console, you can reliably back up and recover physical, virtual, and cloud workloads wherever data lives.
Acronis Files Advanced is an easy, complete, and safe access, sync, and share solution, providing IT with complete control over business content to ensure security, maintain compliance, and enable BYOD.
Employees use any device to securely access corporate files and securely share content with other employees, customers, partners, and vendors.
Users can easily access, create, and edit business files anytime, anywhere.
Control your mobile world
Sophisticated security controls, managed by the Acronis Policy Engine, give IT all the tools it needs to protect your company's critical data assets.
Drive competitive advantage
Advanced use of mobile devices drives faster, more informed decision-making and ultimately improves revenue, profitability, and customer satisfaction.
Employees can use their preferred devices while still giving IT complete control over content access and sharing.
Increase ROI of your mobility investment with solution, easy-to-implement by IT and easy-to-use by employees.
Acronis Files Connect is the only solution that provides the rich experience Mac users demand when connecting to Windows or NAS file servers, while maintaining the compatibility required by IT. At its core, Acronis Files Connect is an AFP filesharing and full-content search service that runs on your Windows server and enables Macs to connect to file shares and NAS via AFP instead of the SMB protocol.
Acronis delivers the best file-and print-sharing solution for integrating Macs into the enterprise, including file access from mobile devices. Thousands of companies use Acronis Files Connect to overcome Mac-to-Windows infrastructure incompatibilities. Enable all Macs (regardless of how old the operating system is) to work seamlessly in Windows server environment leveraging native AFP protocol.
Eliminate file compatibility problems and improve Mac user satisfaction

Improve productivity with fast Spotlight searching

Expand collaboration between Windows and Mac users

Let users access files using mobile devices ― iOS, Android, or Windows phones and tablets
Acronis Snap Deploy® lets you provision hundreds of workstations and servers as fast as you can provision one.
It is ideal for rapid bare-metal initial deployments to a large number of workstations and servers, and on-going deployment to the same hardware in education, training, and lab environments.
by eliminating the need to manually install operating systems and applications onto individual machines.
by eliminating the need to manually configure machines with each deployment.
Rapidly re-deploy machines
when required to refresh or change configurations in a class, lab, or R&D, or test environment.
by running scheduled deployments not needing monitoring by IT.